As the undisputed king of the Bollywood industry, Salman Khan celebrates his birthday, we take a look at some of his iconic 'styles'. We have to thank Salman Khan for making fitness all the rage all these years.
"Dabangg" star Salman Khan is 56 years old and how! Thanks to his fitness addiction, the superstar doesn't look like he's over 25. Over the years, we've seen Salman Bhai go from a reckless boy to the most humble and generous Bollywood star of the century.
Since its initiative "Being Human" for disadvantaged children to help beginners find a place in Bollywood; the star always went the extra mile. Bollywood stars like Katrina Kaif, Sooraj Pancholi, Aayush Sharma, Daisy Shah and Athiya Shetty owe their success to Sallu Bhai.
Some say that Salman Khan is styleless when we would contradict him by saying that he is full of "eternal style". Bollywood's Chulbul Pandey exudes a timeless style quotient that has transcended time and fashion faux pas.
We have to give Salman Khan for giving us real fashion goals in the three decades of his Bollywood career. Take a look at the stylish accessories from Bhaijaan that have influenced men's fashion trends over the years.
The Turquoise Chain Bracelet
There is not a single Salman Khan in the world who does not know the famous bracelet. Salman Khan is never seen in public without his silver chain bracelet adorned with a huge turquoise stone in the middle.
The bracelet was first spotted on Salman's wrist in the movie "Jai Ho". The star claims to have received the bracelet from his father Salim Khan as a gift.
Black leather jacket
Some would say King Shahrukh Khan is the eternal man of the black leather jacket, but we think Salman started the trend before everyone else. Salman Khan was first seen wearing the leather jacket in the song Dil Deewana from the movie Maine Pyar Kiya.
The superstar is often seen dressing casually, but when it comes to layering, Chulbul Pandey always goes for a black leather jacket. Black leather continues to be a winter staple for all of us.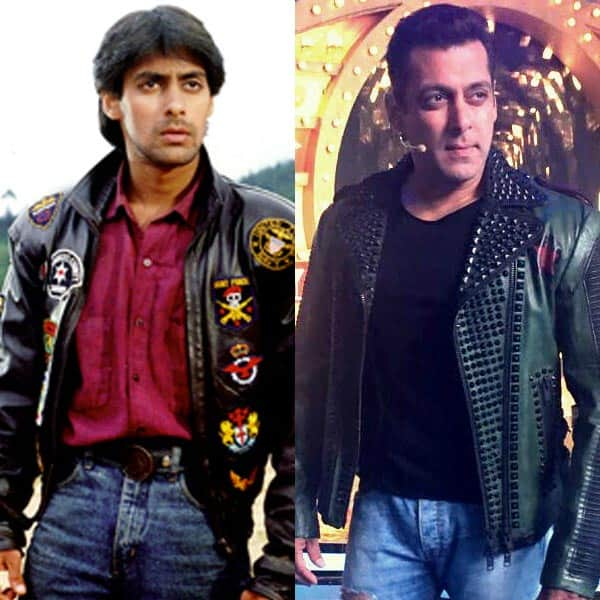 Ripped jeans
Fashion lovers will agree that ripped jeans are the ultimate fashion choice on days when you want to keep them understated yet sleek and sexy.
Ripped jeans were looked down upon in India until star Salman Khan donned ragged jeans in the iconic song "Oh Oh Jaane Jana". The 'Pyaar Kiya Toh Darna Kya' actor rocked the shirtless with a ripped denim look that continues to steal hearts even today.
Dabangg sunglasses
The trend for Ray-Ban aviators quickly accelerated when Salman Khan first donned them in 2010 for his role as "Chulbul Pandey" in "Dabangg". Salman Khan made classic aviators even sexier with his quirky style of hanging the glasses behind his neck.
Sallu Bhai looked sexy and suave dressed like a cop, fighting henchmen while maintaining that million dollar smile. The aviator style still has so many of you hooked.
Over-the-top costumes
Salman Khan is known to stick to his simple personal style, but when it comes to dressing, the star likes to explore the riskier areas.
Salman Khan donned the most original costume colors like yellow, pink, red and all shades of blue. Salman's Bigg Boss style is also a testament to the difference in his "formal style". Sallu Bhai is often seen wearing sequins, quilts and embroidered costumes during his famous "Weekend Ka Vaar" episodes.
Six pack abs
Not as much as about fashion, but six-pack abs became a raging trend after Salman took off his shirt for the song "OO Jaane Jana". Salman Khan brought the fitness obsession to India with his chiseled frame and muscle structure.
Even today, at 56, the "Baghban" star can fight a winning fight against men half his age. Such is the beauty of his body that not only women but also men go gaga for him.
On the work side, Salman is currently surfing the success of his latest release "Antim: The Final Truth" where he adopts the turban look of the handsome cop Sardar, who conquered hearts thanks to this gangster drama directed by his friend filmmaker-actor Mahesh . Manjrekar.
I wish Salman Khan a very happy birthday!