Your clothing style can determine how people perceive you. Stylish, well-dressed men are attractive, confident, and command respect. However, there is this idea that it is expensive to be stylish and also time consuming. Plus, matching colors and accessories and finding your signature look can be a little frustrating at times. But once you know your body type, it will be easy for you to find what suits you. You will opt for clothes that highlight your best features while keeping your style.
As a general rule, always declutter your closet and leave only what you absolutely need. It's the only way to stay true to a fashion upgrade, otherwise you'll be tempted to reach for items you shouldn't. You can search for fashion ideas online or visit https://bespokeunit.com/ for an expert lifestyle guide for men.
If you're looking for ways to upgrade your fashion ensemble in 2022, here are some fashion suggestions and tips to bring out your inner fashionista style:
Adopt the cardigan
Cardigans are no longer associated with the elderly in nursing homes, they now come with a close fit that brings out an easy casual look. The cardigan can be buttoned up or with a high or shawl collar. You can adorn the button front cardigan with a formal dress shirt or incorporate a turtleneck under a shawl collar cardigan for a casual look. Adding cardigans to your wardrobe in 2022 will add an edge to your style.
Stock on some belts
Wearing the same belt with all outfits will not be enough. Stocking up on a few high quality single buckle belts that can be worn with both formal and casual wear will do the trick. For a formal look, always match your belt to your shoes. But for a dressier look, the belt should coordinate with the shoes but not necessarily match. You can only get a place with the "boys" if you look like you're in top form.
Choose your socks wisely
Wearing socks to match your shoes in 2022 is a no-no. It's an old-fashioned look that makes your socks look like an extension of your shoes. Instead, pair your shirt, blazer, or tie with your shoes. Different colored socks will add character to your look and make it more lively.
Invest in a leather jacket
Don't forget to invest in a well-fitting leather jacket. A leather jacket will take years off your age giving you a youthful yet stylish look. The good thing about good quality leather jackets is that they never go out of style and only get better with age.
Leverage with a stylish watch
Cell phones have now replaced watches and are now used to check the time. But a stylish watch isn't just for checking the time, it's an important accessory that can accentuate your look. It's a simple way to elevate your style a little higher.
Sportswear should be limited to the gym
Ideally, you should only wear sportswear when working out. It is easy to slip into sports clothes because they are comfortable. But if you want to look stylish, you have to resist the urge and only wear your gym clothes when you go to the gym to work out. Keep in mind that wearing gym clothes outside the gym will make you look lazy and unmotivated in addition to looking plain and ordinary.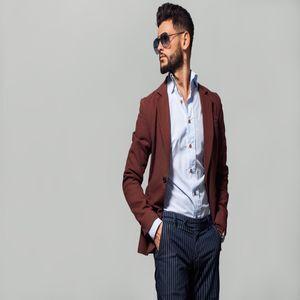 Only wear clothes that fit you
Wearing clothes will add years to your age and make you look old. On the other hand, wearing smaller clothes will make you look rigid. Preferably, your clothes should hang comfortably on you. For example, the shoulder points of a well-fitting suit and your shoulders should be perfectly aligned. Buttons should be neither too loose nor too tight. The sleeves at the wrist should leave at least one centimeter so that the shirt is visible. The costume should also have a slightly tapered shape at the waist.
If you're shorter, lowering the first button on your suit will make you look taller. Suit pants should also fit snugly at the waist, hips and inseam and should sit comfortably over your shoe. Wearing a suit that fits you well will make you look dapper and elegant.
Borrow from the person you admire
Dressing well is a worthwhile investment. Improving your fashion style will boost your confidence and even make you discover yourself more. When you're feeling stuck and at a loss for what to wear, enlist the help of your style icon or emulate someone whose fashion sense you admire. It can be an actor, a businessman or even a blogger. You don't have to wear exactly what they wear; you just borrow their fashion style. You might even find that you already have what it takes, all you have to do is mix the right things for the right look.
Swap your backpack for a leather briefcase
Carrying a backpack if you go away for the weekend is fine, but not in the office. Instead, replace it with a leather briefcase. A leather briefcase is more than just storing your laptop and other personal items, it's a fashion statement. It speaks and represents who you are. It means that you are organized and professional. Wearing a leather briefcase will make you exude class and give you an elegant look. It's an investment you'll keep for years, especially if it's made of fine leather.
Stock of accessories
To update your fashion style ce 2022, there are must-have accessories in your wardrobe. Accessories will bring trend and style to your outfits. Also, using props will require some experimentation and thought. Having them will equip you for any occasion.
Besides a suitcase, a belt and a watch, some of the accessories are:
Wallets

Sun glasses

Hats

Connections

Bowtie

Cufflinks

Pocket squares

Braces

Scarves
Complete the look with a good perfume
While improving your fashion style will add to your confidence, a decent perfume will stamp your authority as a well-groomed man. Invest in a few quality perfumes for different occasions to enhance your look.
Conclusion
You don't have to wear designer clothes to be stylish. But don't compromise on quality either. Inferior clothes will make you look cheap. Finding a clothing brand that makes clothes tailored to your body type will make shopping easier. Always keep in mind that styling means changing your entire look, from your hair to your shoes. Remember to always prioritize comfort over fashion and always dress for the weather.